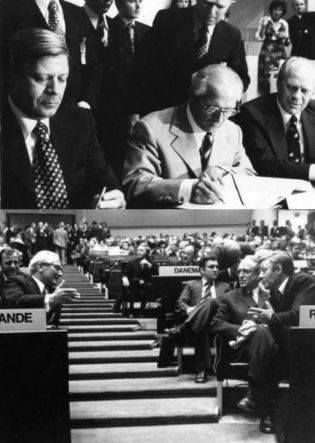 The Conference on Security and Cooperation in Europe (CSCE) was created in the 1970s, following the Helsinki Agreements. It aimed to improve the relationship between the Soviet bloc and the NATO bloc. The United States, the Soviet Union, Canada, Turkey and all the European countries, excluding Albania and Andorra, met between July 3rd, 1973 and August 1st, 1975, in a set of three sessions, where it was agreed deepening cooperation on security issues. From November 1990, with the Charter of Paris, after the fall of the Berlin Wall and the dissolution of the Soviet Union, the CSCE began to have permanent administrative institutions in order to allow the continuity of its work in democracy, peace and human rights, in Europe. Public consultations are also held every two years between the heads of state and government; an annual meeting of a Formal Council made up of Foreign Ministers and a regular meeting of high-level officials from the Ministries of Foreign Affairs, in the form of a Committee.
During the Budapest Summit in December 1994, the Conference was extended to an Organization, thus creating the "Organization for Security and Cooperation in Europe (OSCE)", with headquarters and permanent institutions from January 1st, 1995. The OSCE is a regional organization, headquartered in Vienna, Austria, and made up of 57 member states, including the entire European Union, the Russian Federation, Central Asian countries and North America. The purpose of this Organization is to promote democracy and human rights, as well as prevention, conflict resolution and cooperation in terms of security.
References
Badalassi, N., & Snyder, S. B. (Eds.). (2018). The CSCE and the End of the Cold War: Diplomacy, Societies and Human Rights, 1972-1990. Berghahn Books.
Bilandžić, V., Dahlmann, D., & Kosanović, M. (Eds.). (2012). From Helsinki to Belgrade: The First CSCE Follow-up Meeting and the Crisis of Détente (Vol. 10). V&R unipress GmbH.
Makko, A. (2016). Ambassadors of realpolitik: Sweden, the CSCE and the Cold War (Vol. 20). Berghahn Books.
Hakkarainen, P. (2011). A State of Peace in Europe: West Germany and the CSCE, 1966-1975. Berghahn Books.