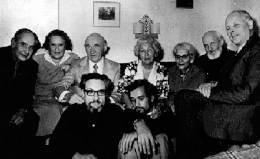 Founded in 1970 by Valery Chalidze, Andrei Sakharov, and Andrey Tverdokhlebov. The Committee on Human Rights in the USSR aimed to assist government agencies in establishing and applying human rights guarantees; research on the theoretical aspects of the human rights; and promote legal education for the public, including the publication of international and Soviet human rights documents. The Committee opposed secret trials and the death penalty. It was the first independent association in the Soviet Union to be a member of an international organization: in June 1971, it became an affiliate of the International League for Human Rights, a non-governmental organization with consultative status with the United Nations. It also became a member of the Institute of International Law. The Committee's activities declined since 1972, due to constant KGB surveillance, which included compromising Chalidze's reputation, depriving him of Soviet citizenship and inciting disagreements and dissensions among Committee members and supporters, which led to Tverdokhlebov's resignation.
References
"Committee for Human Rights in USSR, 4 November 1970", in https://chronicle-of-current-events.com/2014/08/07/17-4-the-committee-for-human-rights-in-the-ussr/
Szymanski, A. (1984). Human Rights in the Soviet Union. London: Zed Books.
Horvath, R. (2005). The legacy of Soviet Dissent: Dissidents, Democratisation and Radical Nationalism in Russia. London: Routledge Curzon.