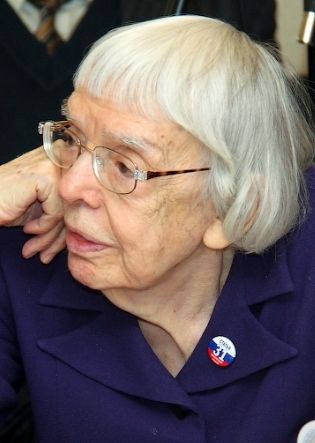 Lyudmila Mikhaylovna Alexeyeva was born on 20 July 1927. She was a Russian historian and human rights activist.
From 1968 to 1972, she worked clandestinely in the bulletin The Chronicle of Current Events, dedicated to human rights violations in the USSR. In February 1977, Alexeyeva fled the USSR to the United States after an offensive against members of The Chronicle by Soviet authorities.
In the United States, Alexeyeva continued to advocate for the improvement of human rights in Russia and worked for Radio Free Europe / Radio Liberty and Voice of America. She regularly wrote about the Soviet dissident movement for publications in English and Russian.
In 1993, after the dissolution of the Soviet Union, she returned to Russia and became president of the Moscow Helsinki Group in 1996. Alexeyeva accused the Russian government of numerous human rights violations, including regular prohibitions on meetings and encouraging nationalist policies.
Since 31 August 2009, Alexeyeva was an active participant in Strategy-31, which consists of regular citizen protests in Moscow's Triumfalnaya Square in defence of Article 31 (On Freedom of Assembly) of the Russian Constitution. She was eventually arrested on 31 December 2009, during one of these protest attempts, by the riot police.
She died in Moscow on 8 December 2018.
References
"Remembering Lyudmila Alexeyeva, the Matriarch of Russia's Human Rights Movement" in https://www.hrw.org/news/2018/12/11/remembering-lyudmila-alexeyeva-matriarch-russias-human-rights-movement
Alexeyeva, Ludmilla; Paul Goldberg (1990), The Thaw Generation: Coming of Age in the Post-Stalin Era, Pittsburgh, University of Pittsburgh Press.