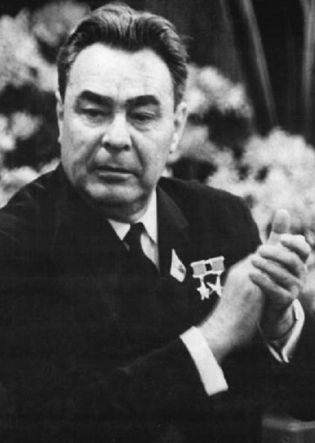 Leonid Ilyich Brezhnev was born in Ukraine on December 19, in 1906 and was the leader of the Soviet Union for 18 years. Brezhnev became a member of the Communist Party of the Soviet Union in 1931 and during the World War II he was a political commissioner of the Red Army. He became Major General in 1943 and led the political commissioners on the Ukrainian front. Brezhnev's career flourished during Stalin's regime and, in 1939, he became Secretary of the Regional Committee of the Dnepropetrovsk Party.
After the war, in 1952, Brezhnev became a member of the Party's Central Committee and also a candidate for membership of the Politburo. However, after Stalin's death, in 1953, Brezhnev lost his positions and it was Nikita Khrushchev who, in the following year, chose him as the second secretary of the Kazakhstan Communist Party. He became first secretary in 1955 and, a year after, he was re-elected to the same positions in the Central Committee and the Politburo.
Brezhnev succeeded Nikita Khrushchev as the leader of the Soviet Communist Party in 1964, with Aleksey Kosygin as Prime Minister. In the late 1960s, Brezhnev developed the Brezhnev Doctrine, which says the Soviet Union had the right to interfere in cases where its interests were being threatened. During the 1970s, Cold War tensions started a period known as Détente. Brezhnev became President, in the late 1970s, through a new Constitution, becoming the first Party and State leader at the same time. He was the Secretary General of the Party for 18 years, until his death on November 10, 1982.
References
Mcneal, R. H. (1979). Leonid Ilyich Brezhnev: A Short Biography. By the Institute of Marxism-Leninism, CPSU Central Committee. Leaders of the World Biographical Series. New York: Pergamon Press, 1977. xiv, 240 pp. Photographs. $10.00.-Leonid I. Brezhnev: Pages From his Life. Written under the auspices of the Academy of Sciences of the USSR. Foreword by Leonid I. Brezhnev. New York: Simon and Schuster, 1978. 320 pp.+ 40 pp. plates. $11.95. Slavic Review, 38(3), 491-492.
Rivers, C. (edt.) (2019), The Soviet Union during the Brezhnev Era: The History of the USSR Under Leonid Brezhnev. Independently published.
Crump, T. (2013). Brezhnev and the Decline of the Soviet Union. London: Routledge.