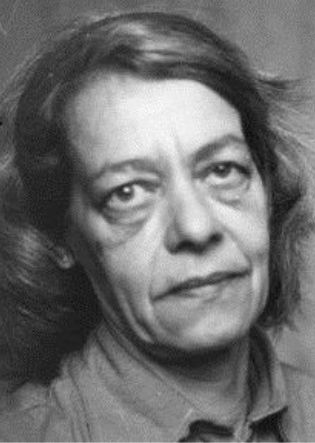 Larisa Iosifovna Bogoraz was born on 8 August 1929 and was a dissident in the Soviet Union.
On 25 August 1968, she organized a demonstration, along with Pavel Litvinov, Natalya Gorbanevskaya, Vadim Delaunay and other demonstrators in Red Square against the Soviet Union's invasion of Czechoslovakia. All participants were arrested and Bogoraz was sentenced to four years of exile in Siberia.
Soon after her release, Bogoraz resumed her resistance to the Soviet regime, highlighting in 1975 a letter to Yuri Andropov, the head of the KGB at the time, asking him to open the organization's archives and in 1986 a campaign to free all political prisoners. The campaign was successful. In the following year, Secretary-General Mikhail Gorbachev began to release them. In 1989, Bogoraz joined the Moscow Helsinki Group, of which she would be president between 1989 and 1994.
Even after the end of the Soviet Union, she continued her activism, holding seminars on the defence of human rights, becoming president of the Seminar on Human Rights, a Russian-American non-governmental organization.
She died on 6 April 2004, aged 74.
References
Vaissié, C. (2008). Russie, Une Femme en Dissidence : Larissa Bogoraz. Paris: Plon.
Reddaway, P. (2020). The Dissidents: A Memoir of Working with the Resistance in Russia, 1960-1999. Washington, DC: Brookings Institution Press.