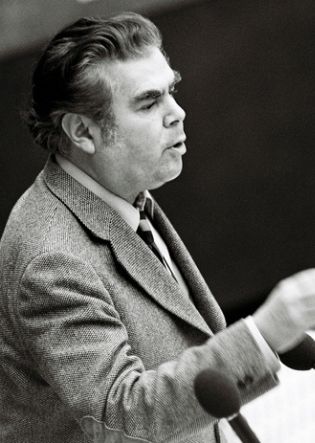 Jiri Pelikan was born on 7 February 1927 in Olomouc, Czechoslovakia. Pelikan became a member of the Communist Party while still studying at the University of Social and Political Sciences in Prague.
With the communist coup in 1948, he became president of the Czechoslovak student union and later worked for the KSC Central Committee, becoming a deputy in the National Assembly. In 1970 he lost his citizenship and seven years later became an Italian citizen.
Editorial activities, like the publication of Listy – a magazine for exiles –, his contact with events in Czechoslovakia, as well as his adhesion to the group Charter 77, drew the attention of the Czech-Slovak secret police. As a result, in 1975, he was the target of an abduction attempt when he made a clandestine visit to Czechoslovakia.
Pelikan represented Italian Socialists as a deputy in the European Parliament between 1977 and 1989. After the 1989 "Velvet Revolution", Pelikan became director of the East West Institute in Rome, and in 1990-91 served in the advisory council of President Vaclav Havel.
References
https://www.theguardian.com/news/1999/jun/30/guardianobituaries.kateconnolly
Pelikán, J. (1976). Socialist Opposition in Eastern Europe: The Czechoslovak Example. London: Palgrave Macmillan.